Sexting is, no doubt, an art of the 21st century. And one that if you haven't mastered the do's and don'ts yet, you definitely need to.
Why? Because not only is texting dirty messages a way to stand out from other women if you're in the dating game, but it's also an incredible way to "enhance sexual communication and intimacy with your partner," says Jane Greer, PhD, a relationship expert and author of What About Me?
"Sexting can be an incredible way to enhance sexual communication and intimacy with your partner."
But if you've ever sent a sext that didn't go over very well—or have felt totally out of left field being seductive and not at all awkward—you may have thrown out the idea with your old flip phone.
So whether you're a newbie who wants to learn how to sext your boyfriend or a seasoned pro who wants to surprise your partner with some new ~tricks~, these sexting tips—and actual scripts—will help you nail digital dirty talk now:
1. Feel out their interest.
Before you send anything, Greer suggests talking it out with your partner so they don't accidentally open your sext during a work meeting and find themselves with a middle-school-oops boner.
Instead, set parameters for when and how a sexy text message is okay—before one of them backfires. And when you begin, start with a sext that's not necessarily NSFW and see how they respond.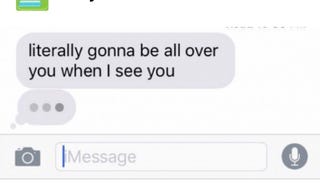 2. Stay within your comfort zone.
Experts don't usually recommend this for most things in life, but when you send a naughty text, you automatically become a little vulnerable: You're either declaring something you want or showing off something you have for someone else to digest (and potentially, but hopefully not, judge).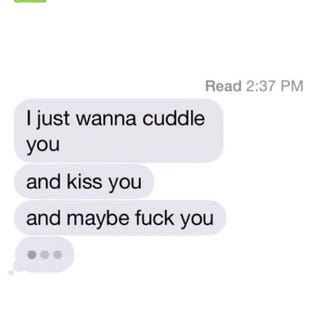 So even though you're going out of your way to tell your partner how hot you're feeling, stay within the lines of what you're comfortable with during your sexting session. In other words, if you've never done BDSM before, don't try to become a virtual dominatrix overnight. (You probably won't like the OTT response you get…just guessing.)
Plus, Greer assures there's no need to "perform" when sexting—just be yourself. So if you're feeling uncomfortable or embarrassed about what you're writing, stick to the things you'd happily say to your partner in the bedroom.
3. Start gentle.
"The whole essence of good sex is great foreplay, so good sexting should whet your appetite for what's to come and spark your imagination about your next rendezvous," explains Greer. You don't need to be a hardcore sexpot from the jump (especially if you've got an unlimited data plan).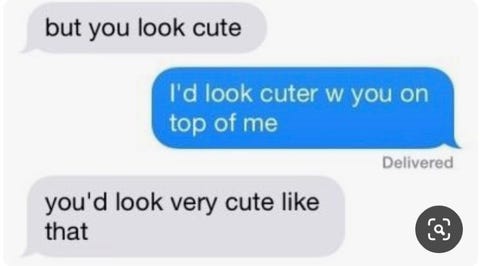 Instead, take your time building sexual tension. "[It] can make the interaction and anticipation even hotter," says Rachel Needle, PsyD, a licensed psychologist and certified sex therapist in West Palm Beach, Florida.
What to say: "I had a dream about you last night, and now I can't stop thinking about you. I want to feel your soft lips on mine."
4. Be a little bit of a tease.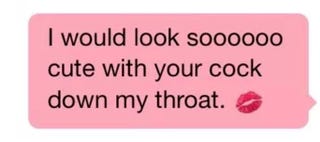 "You want them to have something to look forward to, so try to create some ambiguity and mystery," says Needle. "They should need to use their imagination to fill in some blanks."
What to say: "If only you could see what I'm wearing right now—it's silky and goes up to the top of my thigh. Don't mind the typos…I'm only typing with one hand."
5. Give them a visual of what'll happen later.
Throughout the day, text your partner what you want to do to them—or what you want them to do to you, suggests Amy Levine, sex coach and founder of Ignite Your Pleasure.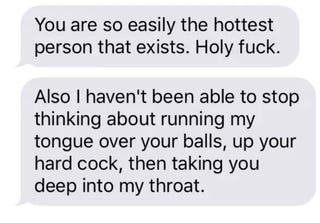 "Mix things up by including a suggestive photo," she says (more on that in a sec). "The anticipation of getting it on can be as exciting as doing the deed."

Once you've got your partner all worked up by sending a nude (or something similar), Needle suggests this sexting example to really heat things up:
What to say: "I'm at home naked, and all I want is you inside me. I want to greet you at the door, pull down your pants, and drop to my knees."
6. Take a stroll down memory lane.
One of the hottest things you can sext is how your S.O. pleasured you in the past.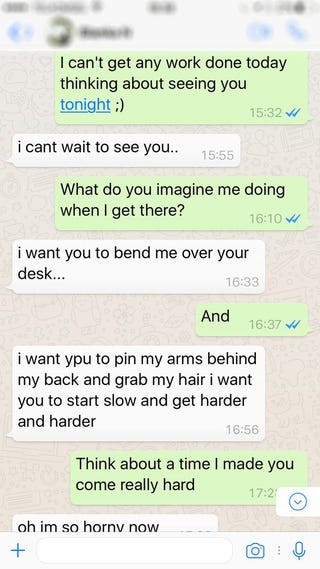 "Tell them what got you totally turned on the last time you were together," suggests Levine. "Maybe it was the way they sensuously ran their hands through your hair. Or the way they swirled their tongue when they went down on you…"
What to say:"Remember that time you made me come twice in a row? I can't stop thinking about it…"
7. Embrace question marks.
In order to keep your sext session going strong, avoid one-off lines that will eventually fall flat and end with you in the blue (iPhone speak for being the last to text).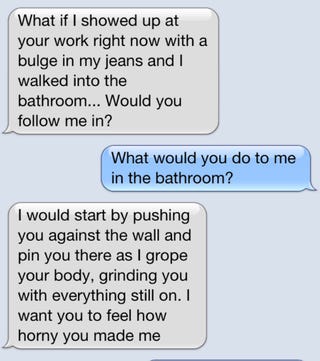 "Messages that beg to be responded to will keep the game escalating," says Michele Lisenbury Christensen, a relationship and sex coach in Seattle.
What to say: "What would you do if I showed up at your door wearing nothing but a trench coat?"
8. Give plenty of feedback.
"Like what your partner is saying? Something stop you in your tracks? Tell them!" says Andy Duran, of the Good Vibrations sexual health education department.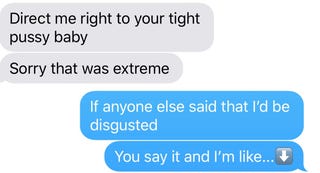 Sexts, according to Greer, are sent to ignite something in your partner, but remember, they can't see you. Regardless of how turned on you might feel, you need to spell it out. Plus, positive reinforcement can be just the encouragement your sexting partner needs to keep it coming. (Pun intended!)
What to say: "Mmm, you're driving me crazy. That just made me so wet."
9. Don't be afraid to send a sexy picture…
As long as you're chatting with a partner whom you trust, there's no reason you can't take your sexting game to the next level, by sending a naughty photo or nude.
"Though some might go for full-on crotch shots, never underestimate the seductive power of a suggestive photo," says Duran. Greer agrees: A shot of the underwear you're planning on wearing later, or a pic of your lips, neck, or thighs can be enough to tempt and tease.
After all, you wanna leave something to their imagination, right?
10. …But maybe leave your face out of it.
ICYDK, you can send really hot photos that don't include any identifying characteristics, says Levine. Revenge porn shouldn't—but does—happen, so no matter how much you love and trust your partner now, you should still take precautions to protect yourself.
Staying anonymous (that includes avoiding shots of any moles, birthmarks, etc.) is the best way to make sure your risqué text doesn't come back to haunt you in the future.
11. Sext on your terms—and your terms only.
This should go without saying, but if dirty talk (verbal or typed) makes you feel more weird and uncomfortable than empowered and turned on, there's absolutely no reason to move forward. Same goes if your partner feels objectified or skeeved out by it.
In those scenarios, save the sexiness for home, says Greer. In the end, the main event matters way more than the trailers leading up to it.